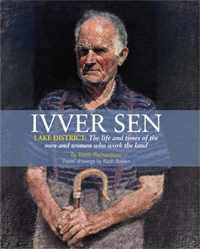 IVVER SEN
LAKE DISTRICT: The life and times of the men and women who work the land.
By Keith Richardson. Pastel drawings by Keith Bowen.
Ivver Sen is Cumbrian dialect for ever since.
The title is a direct reference to the many years that hill farming has existed in the Lake District, in much the same way – apart from tractors replacing horses and other significant changes – since the early Norse settlers first arrived in the region.
Ivver Sen the book is about the people who have lived and worked the land over the years and those who cling on to their fell-farming heritage to this day. The book tells their amazing story through Keith Richardson's words and Keith Bowen's pastel drawings.
The book relates the fascinating stories of real Lakeland people and their lives and times, including brother and sister Johnny and Betty Richardson who spent an idyllic childhood at Watendlath in the early 1930s. It also goes on to tell the dramatic story of Blencathra huntsman Johnny who was captured at Tobruk in 1941 and escaped from German Prisoner of War camps in Italy to be pursued relentlessly by the Nazis across the Apennine mountain range. After being recaptured twice he eventually made good his escape with the help of an Italian family who gave him shelter and whom he revisited 40 years after the war.
Other characters featured in the book include the legendary fell runner and farmer Joss Naylor, Jean and Derick Wilson, Dennis Monkhouse, Ronnie Cape, Barry Todhunter, Jonny Birkett, Skelt Robinson, Glenn Tubman, Victor Brownlee, Tommy Graves, Geordie Hutton and many others.
Every chapter tells a different story and provides a moving, informative, entertaining and, at times, humorous account of the farming way of life in Lakeland. It is rich in nostalgia but also voices opinions on hill farming today.
In addition to Keith Bowen's superb pastel drawings there are also evocative, previously unpublished, images from the past set against the brilliant modern day photography by Val Corbett of the timeless fells, lakes and rivers that provide the backcloth for the stories of a very special breed of people; a people who are fast disappearing from the land on which they have lived and worked down the centuries.
Buy the book ►
Extract from the book ►
About the artist Keith Bowen ►
View drawings from the book, by artist Keith Bowen ►
SALES OUTLETS FOR RIVER GRETA WRITER TITLES
River Greta Writer, Keswick. Tel (017687)74284. keithr@rivergretawriter.co.uk
The Keswick Reminder, Station Street, Keswick.
Bookends bookshop, Main Street, Keswick & 56 Castle St, Carlisle.
Michael Moons Bookshop, 19 Lowther Street, Whitehaven.
Fred Holdsworth Bookshop, Central Buildings, Ambleside.
The New Bookshop and Coffee Shop, 42/44 Main Street, Cockermouth.
Sam Read's Bookshop, Broadgate House, Grasmere.
Just for Ewe, Fairfield House, Coniston.
Suttons Book Shop, 48 Market Street, Ulverston.
Treeby and Bolton, Lake Road, Keswick.
Viridian Gallery, St John's Street, Keswick.
Waterstones, Kendal, Barrow in Furness and Carlisle.
Pete Bland Sports, 34A Kirkland, Kendal ('Joss' book only)
Front Runner, 296 Sharrow Vale Road, Sheffield ('Joss' book only)
PRAISE INDEED
"When it was decided to apply for World Heritage status for the Lake District it was on the basis of its cultural landscape.
In this fine, evocative book Keith Richardson puts figures in that landscape, figures that may reach for their pitchfork at the very mention of culture; but characters, faces that carry in their grain the Lake District's DNA.
When I first came to live in Wasdale some 20 years ago I was told that the characters had gone and the agriculture that sustained them was going to hell in a handcart, too. But the death notices were premature. Keith Richardson tracks the survivors in a volume that should be essential reading for the bureaucrats and politicians who have treated Lakeland's way of life with such careless disdain."
ERIC ROBSON, writer and broadcaster.
"Keith Richardson's tome is rich in every sense and a glorious celebration of a changing way of life... it is all the more appealing because of Keith Bowen's high-calibre pastel images, which complement the words wonderfully and paint a sensitive portrait of each individual.
Every picture really does tell a story. I must mention, too, the stunning landscape photographs taken by Val Corbett. All in an award-winning gem if I ever did see one..."
ADRIAN MULLEN, The Westmorland Gazette.
Read the full article ►
"Books about the Lake District are ten a penny. Often they do no more than recycle previous writing, books for the tourists, trotting out all the weary clichés, words and pictures that present a chocolate box image of the lakes and fells. Not so this book. Deep within the author was a yearning to write a book that would be a testimony to the heart and soul of his native county, seen through its personalities and their family histories... Keith Richardson has done a remarkable job in getting Lakeland characters to talk frankly in a book that tells it like it is, not in some contrived and cosmetic way."
ROSS BREWSTER, News and Star.