RIVER GRETA WRITER TITLES WIN LAKELAND AWARDS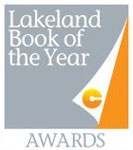 Ivver Sen, by Keith Richardson and published by River Greta Writer won The Lakeland Book of the Year award for 2009. The book, with pastel drawings by Keith Bowen, also won the Saint and Co prize in the People and Business Category. Jack's Yak also won the coveted main prize in 2011 while Joss (2009) and The Greta (2012) both won their respective categories. Jack's Yak was shortlisted for the 2011 Portico Prize for northern writers.
REVIEWS
Reviews and praise for books published by River Greta Writer.
THE GRETA
"SOMETIMES a real gem of a book drops on to the arts desk.
In this case, Keith Richardson's The Greta, a beautifully illustrated account of the Lakeland river and its people, past and present.
Keith calls it the greatest little river in the world. Only a mere four miles long, nevertheless it has been central to those who have lived or still live on, and beyond, its glorious banks.
Like many rivers across the globe, its flows through the very heart of the community. Keith's own childhood home was a terraced house half a dozen paces from its hypnotic waters. Even now he lives a stone's throw from The Greta.
The book is graced by the majestic photography of Val Corbett as well as treasured artwork such as William Westall's Fields, River and Greta Hall pencil and watercolour (courtesy of the Wordsworth Trust) and J B Pyne's The Vale of Keswick, Bassenthwaite, Lakeland, the River Greta (Keswick Museum and Art Gallery).
I was particular enthralled by the chapter on Greta Hall and references to poets Samuel Taylor Coleridge and Robert Southey.
I really do love books like this (I still regularly dip into Jane Renouf's The Lake Artists Society centenary tome).
As a hard back glossy, The Greta; is a luxury at £25 but well worth its cover price for the hefty slice of culture and historical fact that it serves.
It is an elegant read and follows in the literary steps of Keith's Ivver Sen, another beauty which landed him his first Lakeland Book of the Year award in 2009.
However, for me, The Greta, is in a different class and worthy of being in the national spotlight.
In artistic terms, Ivver Sen was portraiture.
Two years in the making, The Greta is more sumptuous, using a broader cultural canvas, painting a wider and wondrous landscape that embraces the Keswick river, its people, and the wildlife that relies on its constant flow.
The 267-page book concludes with the fascinating History Files – another clever touch.
If you don't buy another book for 12 months, buy this, it will more than likely keep you entertained until then anyway.
Keith – well-known former Cumbria Life publishing director/editor and respected journalist - admits that because of his close personal connection with the river deep down it was always the book I wanted to write.
I'm so glad he did."
ADRIAN MULLEN, The Westmorland Gazette.

JOSS
This review is from: Joss: The Life and Times of the Legendary Lake District Fell Runner and Shepherd Joss Naylor (Hardcover)
Years ago when reading Feet in the Clouds it was hard to forget the amazing tale of `Iron Joss', indeed the story laid out by Askwith created a great appetite to learn more about "the life and times of the legendary Lake District fell runner and shepherd Joss Naylor" as Keith Richardson's new book is sub-titled.
Simon Fairmaner, an Englishmen and former champion of the Irish hills, made me aware of this new publication. The book is available through limited sales outlets, mainly in the Lakes, a full list of which can be found at River Greta Writer. Not all sales outlets ship to Ireland and overseas, but I personally got great service from the Halls of Coniston who provided my copy.
So, should you get this book? Well, if you're a Joss fan like me, you are probably already ordering before finishing reading this review. But as the inside of the cover says "This book is dedicated to fell runners" and anyone with an interest in our sport will find a lot to love among its pages.
The book itself is a piece of beauty that will no doubt take pride of place in most homes: a large A4 hardcover with full-colour glossy pages (237 of them). More than being just a tale of Joss' fell-running exploits, the book is a tour of the history of the Lake District, a celebration of the Cumbrian language and the men and women forged by the farmland life in the 1930s and 1940s:
"There are people, including Joss, who will tell you that that sort of upbringing on a hill farm bred character of a type we may never see the like again once they are gone. " (Keith Richardson)
And the book goes into marvellous detail about some of Joss' greatest tests of character among them his Three-Peaks record, his circuit of all the Lakes, Meres and Waters of the Lake District, his foreign adventure running Pike's Peak, and many more. There are welcome insights into Joss from other legendary fell runners such as Kenny Stuart:
"He's got that inherent toughness, just like the Billy Teasdales of this world. Some of his long distance epics (...) were done with very little scientific or technical back up. He just went out and he ran every day as long as he could as hard as he could. " (Kenny Stuart)
For those looking to learn more about Joss the man, Keith Richardson's work does not disappoint. You will learn about his family, his beloved dogs and the true cause of the back-pain that plagued Joss for most of his life.
The book presents strong emotional revelations but doesn't dwell overly on any, much to its benefit. This definitive work on Joss Naylor finishes with an appendix providing commentary and splits on most of Joss' remarkable long-distance challenges.
RENE BORG, "ChampionsEverywhere.com" (Glendalough, Ireland)
"Keith Richardson, in this remarkably insightful book, and in his extensive interviews with Naylor, has uncovered uncomfortable elements in a tough upbringing. But life in the remoter valleys was raw in a way that today's young people would find intolerable. It made them or it broke them. In Joss Naylor's case it coloured the man he became; single minded, determined, with no side to him and inherently a decent and dignified man who has brought nothing but honour to his sport."
ROSS BREWSTER, writer and former fell runner
"It's the definitive work, drawing on all strands of this rough diamond's remarkable life and his amazing feats. Winner of this year's Lakeland Book of the Year, Keith Richardson has another winner on his hand's."
CUMBRIA MAGAZINE
IVVER SEN
"When it was decided to apply for World Heritage status for the Lake District it was on the basis of its cultural landscape.
In this fine, evocative book Keith Richardson puts figures in that landscape, figures that may reach for their pitchfork at the very mention of culture; but characters, faces that carry in their grain the Lake District's DNA.
When I first came to live in Wasdale some 20 years ago I was told that the characters had gone and the agriculture that sustained them was going to hell in a handcart, too. But the death notices were premature. Keith Richardson tracks the survivors in a volume that should be essential reading for the bureaucrats and politicians who have treated Lakeland's way of life with such careless disdain."
ERIC ROBSON, writer and broadcaster.
"Keith Richardson's tome is rich in every sense and a glorious celebration of a changing way of life... it is all the more appealing because of Keith Bowen's high-calibre pastel images, which complement the words wonderfully and paint a sensitive portrait of each individual.
Every picture really does tell a story. I must mention, too, the stunning landscape photographs taken by Val Corbett. All in an award-winning gem if I ever did see one..."
ADRIAN MULLEN, The Westmorland Gazette.
Read the full article ►
"Books about the Lake District are ten a penny. Often they do no more than recycle previous writing, books for the tourists, trotting out all the weary clichés, words and pictures that present a chocolate box image of the lakes and fells. Not so this book. Deep within the author was a yearning to write a book that would be a testimony to the heart and soul of his native county, seen through its personalities and their family histories... Keith Richardson has done a remarkable job in getting Lakeland characters to talk frankly in a book that tells it like it is, not in some contrived and cosmetic way."
ROSS BREWSTER, News and Star.